By: Željka Sente, Salesforce administrator, consultant, and developer
In that moment when you think you know it all, think again. We started learning from the moment we were born, we are very curious, it is what makes us human, alike, and yet, so distinct. Lifelong learning is key to personal and social development.
After 10 years of working in education, I completely changed my career.
My name is Željka Sente and I'm a certified Salesforce administrator, consultant, and developer.
Sounds great, right? I think so too.
But, if you do know me, and we haven't met lately, you must be in awe.
Namely, after 10 years of working in education, I completely changed my career.
How did this happen? Honestly, it seems that all the pieces fall into place exactly as they should and when we need them to do that.
I have personally always known that I would eventually change my career, but before that, I wanted to first be accomplished at a certain level.
Sometimes people don't have a clear vision of their own career development, even those with quite a lot of work experience, and at a certain point in life some people change that vision… and that is perfectly fine. Career change is not simple, and it requires a lot of effort, but my own example proves that it most certainly is possible.
I believe in lifelong learning, and I find it that individuals should constantly advance their knowledge.
Upon completion of primary school, my option for secondary school was general-program high school. Namely, general-program high school was the only school that did not limit me to any direction for study selection, and it also provided a wide range of knowledge.
This was my wish as well, as you never know what will happen tomorrow.
During those four years at high school, I was interested in all sorts of things, there simply wasn't one interest that I could hold on to and move towards that direction, because, what if something more interesting came along?
I didn't want to limit myself.
From working as a teacher of Mathematics, through professional growth and development.
And then a new decision came along, I will be attending the Faculty of Science. That's how it was, I had passed the admission examination, and Bijenička Street became the part of Zagreb that marked my following five years. Mathematics provides the development of logic and creativity in one. This might sound funny to someone who didn't study it, but this indeed is true. In those five years, my knowledge grew in several directions. I chose the teaching direction so, apart from touching on all mathematical branches, I realised that Psychology was a subject that provided development in a completely different direction. Something new and interesting. In addition to the regular study of Mathematics, I also became a demonstrator at the faculty, which broadened the range of people with whom I studied every day and, simultaneously, I also developed in the direction of transferring knowledge, in this case to my colleagues at the faculty.
And so, I became a Master of Education in Mathematics cum laude.
My first job was at the First School of Economy in Zagreb as a teacher of Mathematics.
At no point did I experience fear, as I knew that was what I wanted to do, and when I would enter the classroom, the feeling was perfect.
The school where I worked was very large for Croatian terms, work was organised in two shifts with about 40 classes, that is, 10 classes per generation. I gained my first work experience with teenagers which was, to put it mildly, challenging 😊, but I readily and willingly accepted that challenge. In addition, I gained my first work and collaboration experiences with colleagues at school. After working in high school, I also worked in primary schools with younger students, which again required adaptation and learning. Working at both levels of education had given me a great deal of challenges and many opportunities for professional growth and development.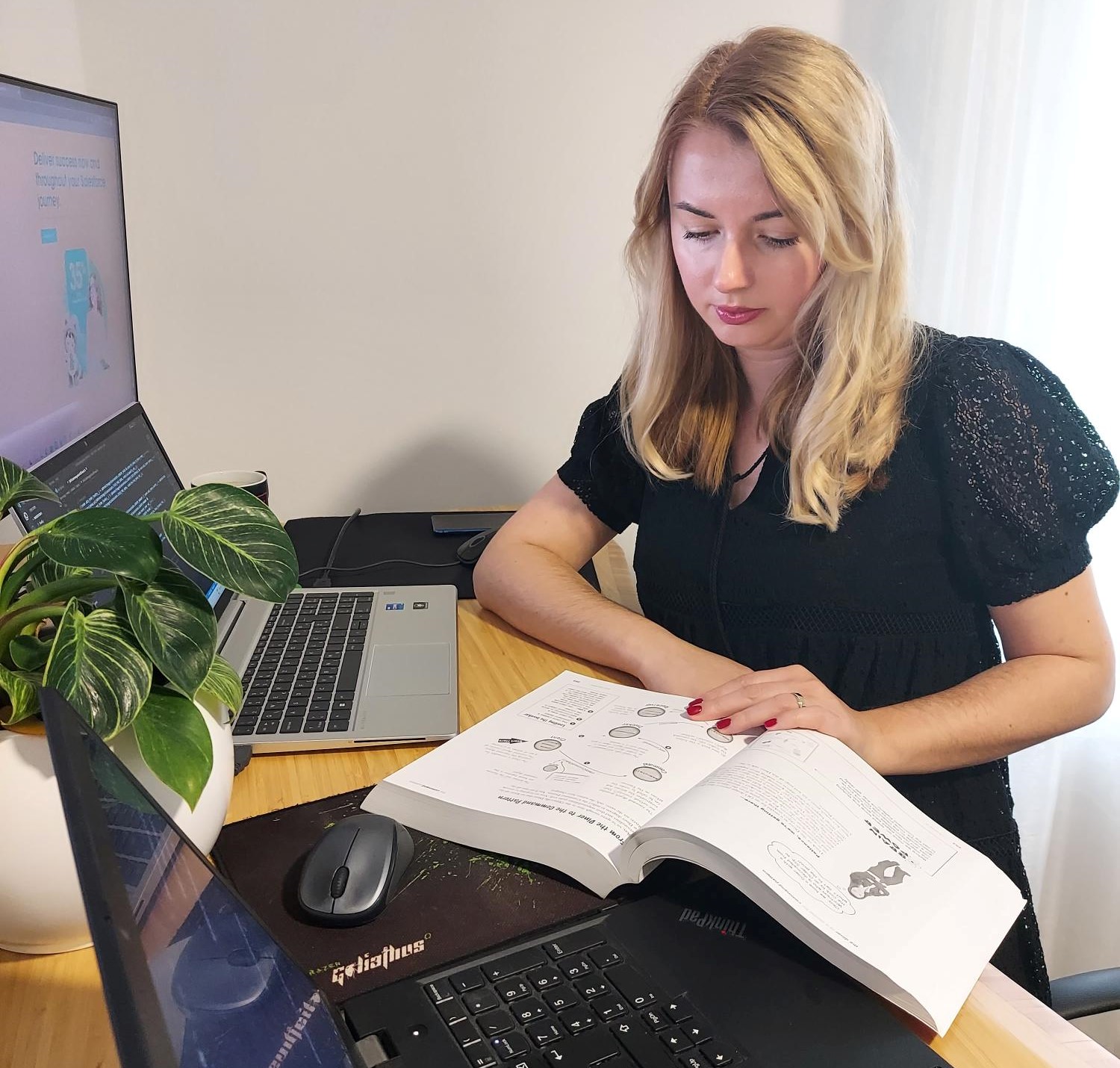 I realised that I enjoyed working with computers and I tried to enrich my lectures daily with information technologies. In addition to regular classes, I would advance my knowledge at various professional conferences, not only as a passive listener, but as a lecturer as well.
I enjoyed my job, especially working with students. Their creativity, differences, ideas and having self-initiative motivated me as well, which was recognised in every school I worked, and it was the reason why the mathematical classroom was equipped with the latest technology, a smart board, and tablets.
After 10 years of working in the education system, after being a mentor to my colleagues and going through school reforms, I decided that I wanted to advance in a different direction.
I made the final decision that this was my next goal in life.
My friends would often describe their work on the Salesforce platform, and I started to think more and more about career change. And when my husband got a job as a Salesforce administrator and developer, I made the final decision that this was my next goal in life.
My husband recommended to first pass the Salesforce Admin Trailmix on Trailhead, to gain fundamental knowledge required to work on this platform. And so, I started my Salesforce career, at 34 years old, as a Master of Education in Mathematics, a wife and mother of two, in the moment of moving with my family to a new house.
I got a job at Triple Innovations, an IT company with culture and continuity of investment in the development of people eager to learn, which was exactly what I needed. An environment full of ambitious, interesting, different, kind people… people one could only wish to be a part of their team .
I was led by my desire to learn and advance.
I felt no fear, I was led by my desire to learn and advance, at no point did I doubt whether I would manage the new situation. Of course, I didn't think about it, as I knew myself all too well.
However, what I did not take into consideration was the fact that I was a beginner here. My professional training up to this point had built me as the person I am today, aware of own strengths and weaknesses, but I overlooked that.
In IT circles, my technical knowledge could not measure against my colleagues'.
So, I had to start from the beginning, to study, which was the best part of each day, but also to prove myself professionally, which I found a little more difficult.
At one point, I tried to convince myself that this was how it should be, that I was starting from scratch, but now I know that precisely my years of experience in my previous profession helped me acquire competences at this rate.
Challenges are our driving force , be open towards them...I have.
After about 45 days, I became a Salesforce Certified Administrator and just further confirmed to myself that I was headed to the right direction.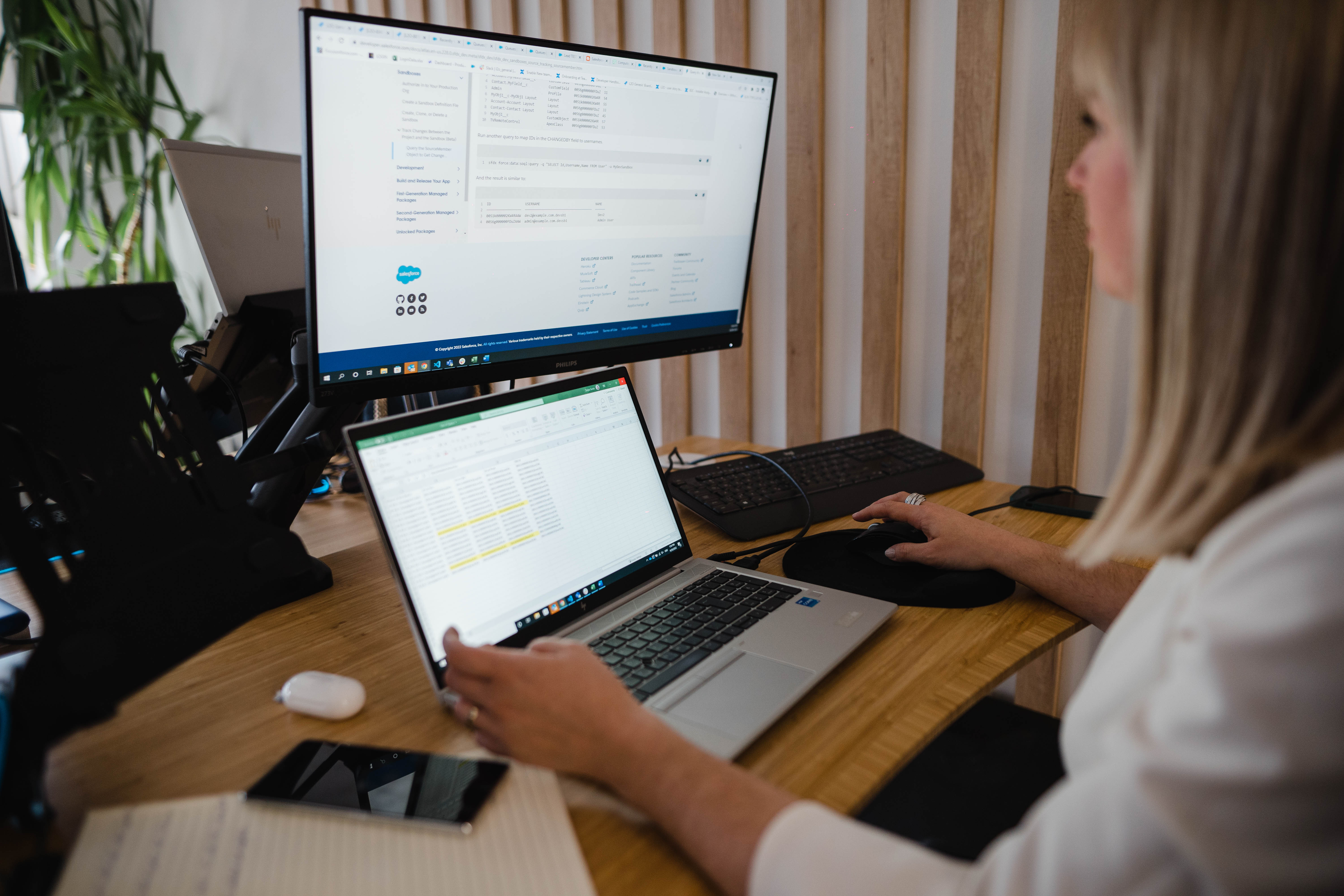 For me personally, the preparations for this certificate were extremely tiring. I tried to acquire as much IT knowledge as possible in the shortest possible time. My days would last 20 hours, I was at the same time both exhausted and proud of myself.
As a mother, it was difficult for me not to think about my children and to focus only on my job. Even today, after more than a year, I haven't succeeded in doing this, but I'm trying to find balance that I can handle; some days are easier, some are harder.
The work I do includes daily training, working in English with people from all over the world, and since I am an introvert, I find every working day also very challenging. However, at the end of the working week, I realise how much I have grown both privately and professionally, something that makes me extremely proud.
I got the opportunity to work on a large and complex project.
The moment that pleased me the most in the first year of my new career was when I got the opportunity to work on a large and complex project for one important client. I gained a lot of experience working with Veeva , which is an application for the pharmaceutical industry built on the Salesforce platform, and I believe that the knowledge I gained on that project is rare and valuable.
In parallel with the new project, I was preparing myself for a new certification. I would recommend the Sales Cloud Consultant Certification Trailmix to anyone who wants to become a Salesforce consultant.
Salesforce certifications – a way to being able to solve tasks independently.
The end of 2021 brought me new joy and pride, I became a Salesforce Certified Sales Cloud Consultant and achieved another goal in my business plan.
But through the preparation for this certificate, I felt that I had to memorise a bunch of facts, which went against everything I taught the children at school. This made me very tired as a mathematician, and I subconsciously decided in which direction my further training would go.
The new year began with a new project, a new team, along with the introduction of a new business processes. And I decided to take my education towards Salesforce developer path. Namely, if you want to be successful in working on the Salesforce platform, I believe that you should have at least basic administrative, consulting and developer knowledge; you are then a complete Salesforce professional able to solve tasks independently.
I would use every break at my workplace, wake up earlier than usual, and after putting my kids to bed, I would turn on my computer again and listen to online classes at the Udemy platform.
I felt obligated towards my company, the people who gave me a chance, and mostly, towards my family.
And so, I became a Salesforce Certified Platform Developer 1.
Later on, I was given the opportunity to work on the Marketing Cloud solutions for a new international client, and recently achieved Marketing Cloud Email Specialist certificate.
At this moment, I am listening to online classes for Platform App Builder, and I know exactly which certifications I want to further pursue and in what direction I want to advance.
Learning opens new doors for us.
Let's be honest, being a mother and changing profession after 10 years is a big and a demanding undertaking. But I believe that I will eventually find the perfect balance between my work-related ambitions and the time I want to dedicate to my family.
What I learned on my path is that regardless of age and previous experience, people can fulfil their potential with a lot of effort and even change a career drastically and live a more challenging and interesting life. And mostly, that learning is fun, it opens new doors for us, it lets us grow. Enjoy it, I know I do.
---
---